Breast Augmentation/Enlargment - Implants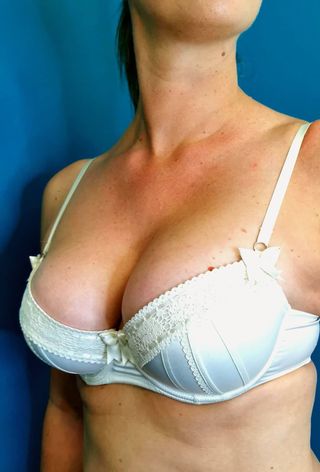 Dr Yaprak's Philosophy is for a natural enhancement and creates a synergy between your natural body type and your desired result to create a truly natural result.
Breast Implants (augmentation mammaplasty) are a common procedure for ladies who are not satisfied with their current breast shape and size due to:
Insufficient development
Disease, Trauma
Post-pregnanacy Loss
Why have a Breast Augmentation?
Breast Augmentation increases the volume of the breast making it look fuller and/or curvier overall appearance.  Breast Augmentation can correct an asymmetry in size between the breasts balancing them out, achieving an equal size and shape.  Breast Augmentation is used for rexonstruction after a mastectomy due to cancer treatment. 
What to expect in consultation with Dr Yaprak:  
During your first consultation with Dr Yaprak, he will
Explain the procedure
Discuss your history
Tell you the risks of the surgery
Talk about the recovery from the surgery
Go through your post-op expecations.
With a chaperone present he will examine, measure, and surgically assess your body and make his recommendations based on your individual assessment.  
During a second consult (which is an absolute requirement) Dr Yaprak will:
Take some confidential pre-operative photos
Go over the procedure again to make sure you have a complete uderstanding of the operation, the risks, and expectations
Discuss the size range based on your discussion with Dr Yaprak 
Give you different sized fillers to use everyday in your bra to test the size and weight of the prospective implants to be sure you are comfortable with how the final outcome will look and feel in a real life situation.
Before and After Photos, Breast Augmentation/Enlargement Surgery Performed by Dr Yaprak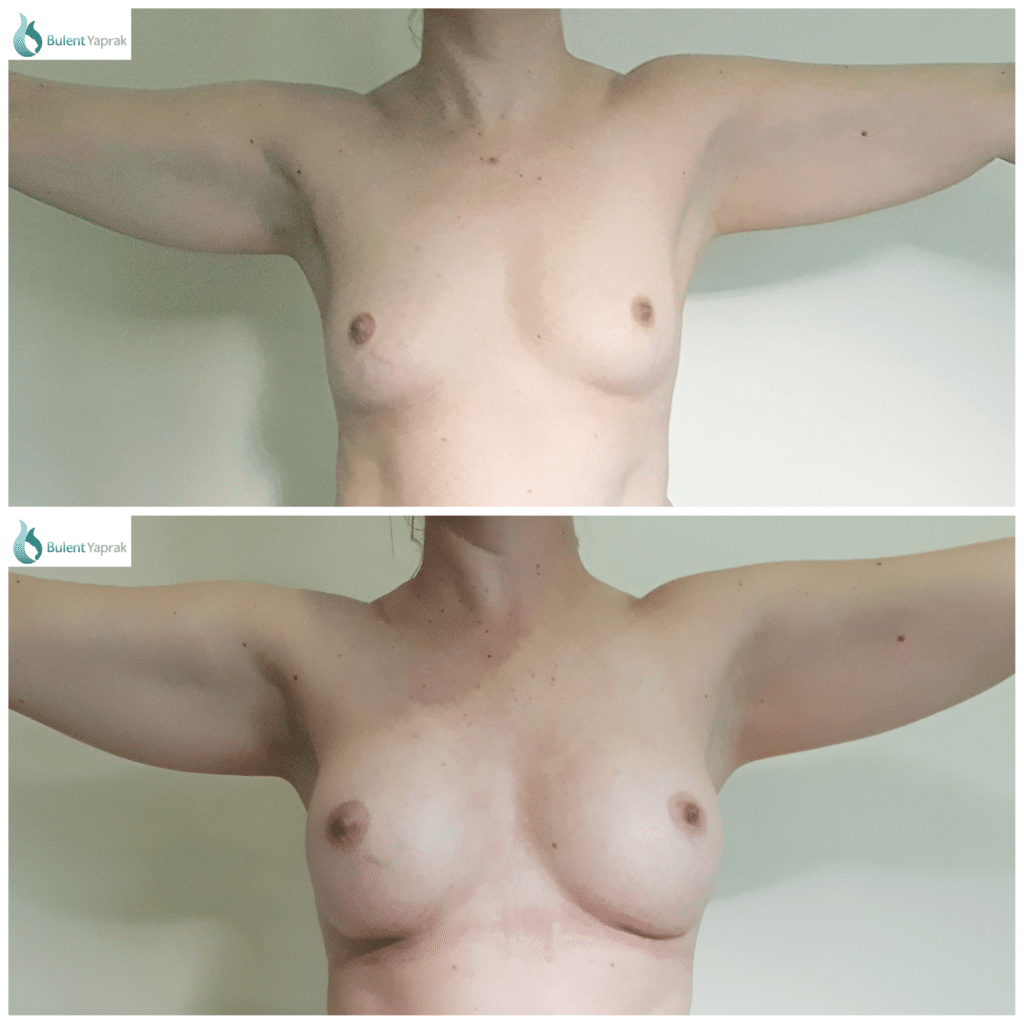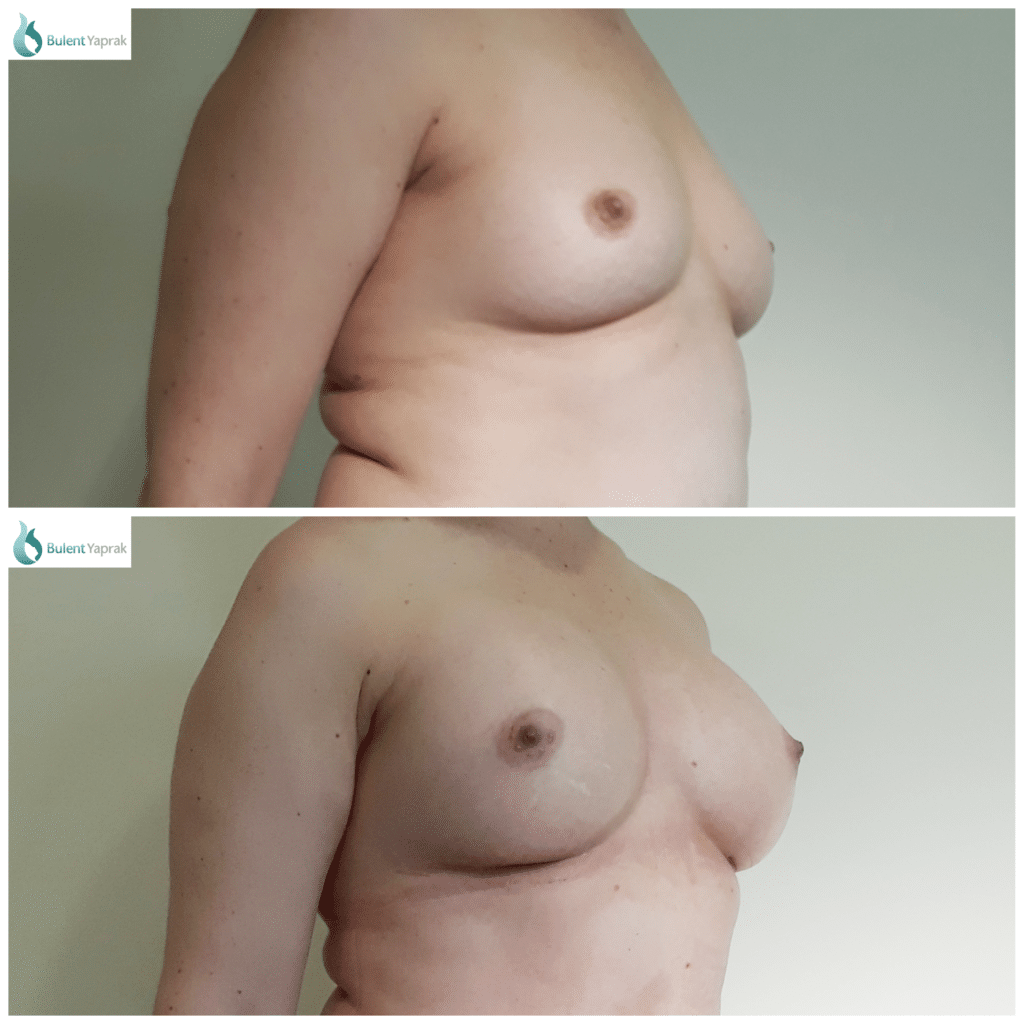 What are the choices for implants?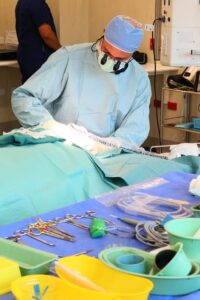 Implants commonly used are either filled with silicone or saline.  Implants have a thick outer silicone-rubber shell which has either textured or a smooth surface. 
Dr Yaprak will discuss the implants with you at both consultations so you become familiar with the form and size before your surgery.  The companies who manufacture the implants do so under strict quality controls reducing the rist of capsule formation, gel leakage, rupture etc.  The exact make, model, and batch number is carefully recorded for any future reference.
Sometimes, Dr Yaprak will use a tissue expander to stretch the tissues.  This is inserted and continually gradually inflated.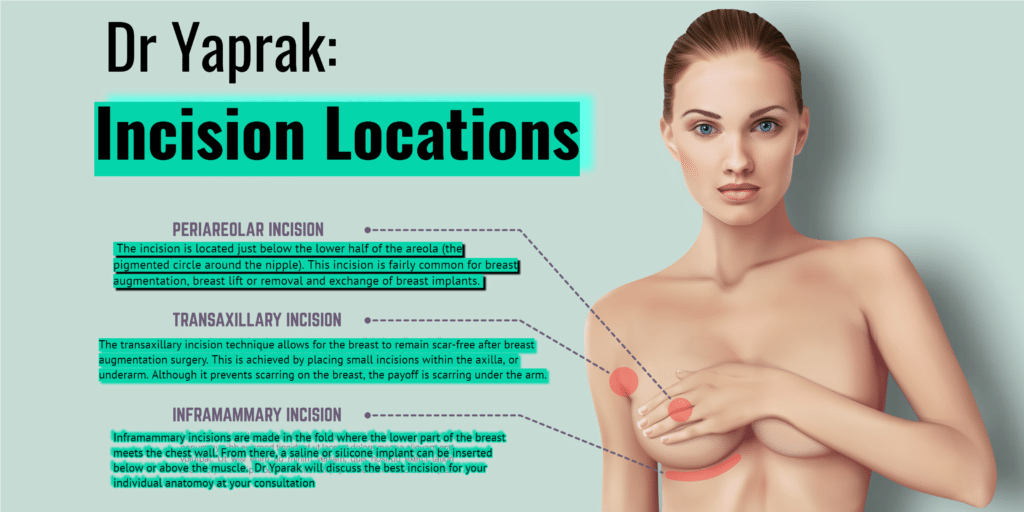 WHICH INCISION LOCATION IS BEST FOR ME?
Incision locations for Breast Implants can be Periareolar, Transaxillary or inframammary.  Dr Yaprak will discuss all these options with you at your consulation and make his recommendations based on your individual anatomy. 
One incision is made per implant and the scar from the incision is usually around 5-6 centimetres long.  All operations can cause a scar and it will take time to heal and fade.  
Breast Implants are placed behind the breast tissue rather than within it.  The Implnat can be either placed:
Between the chest muscle and breast tissue
Behind the chest, or pectorial muscle
Each of thses placements has pros and cons.  Dr Yaprak will discuss these advantages and disadvantages with you and explain the best method for your individual anatomy.